We take pride on our Golden Retrievers, and there are times that we cannot keep up with maintaining retired Goldens along with breeding Goldens. We believe it is in the best interest of the retiring moms to find a loving home, where the family has the means to care for a middle aged, sometimes young, housebroken and socialized Golden Retriever.
All of our dogs are used to living with other dogs among them as well, so it makes sense that we can place the retiring dog into a home where there is another dog. Several times we have had volunteer families who have previously adopted a Ryan's Golden who have enjoyed taking in the retiring Golden to love and care for many years ahead. This is the ideal home for our retiring Goldens and would consider such a request from a family who have adopted a puppy from us in the past.
CLICK ON SMALLER PICTURES TO ENLARGE IMAGE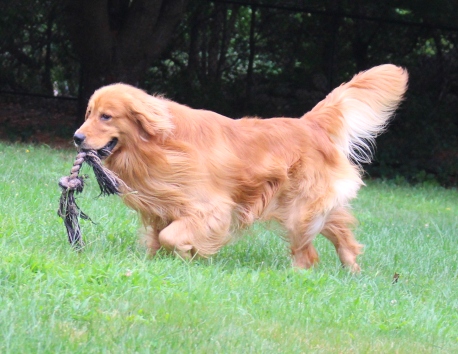 Lucky was our "go-to" stud, with a Lion's mane and a heart of Gold. We were saddened to retire him but look forward to our new lines with Brody and Duke.